AIY Projects 2: Google's AIY Projects Kits get an upgrade
After the outstanding success of their AIY Projects Voice and Vision Kits, Google has announced the release of upgraded kits, complete with Raspberry Pi Zero WH, Camera Module, and preloaded SD card.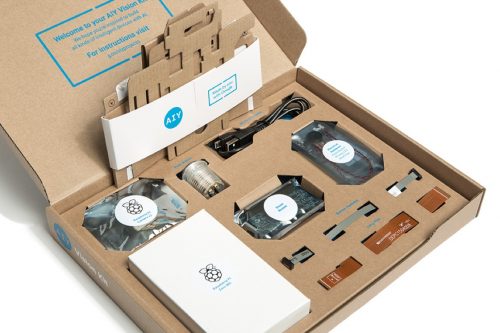 Google's AIY Projects Kits
Google launched the AIY Projects Voice Kit last year, first as a cover gift with The MagPi magazine and later as a standalone product.
Within a DIY cardboard box, makers were able to assemble their own voice-activated AI assistant akin to the Amazon Alexa, Apple's Siri, and Google's own Google Home Assistant. The Voice Kit was an instant hit that spurred no end of maker videos and tutorials, including our own free tutorial for controlling a robot using voice commands.
Later in the year, the team followed up the success of the Voice Kit with the AIY Projects Vision Kit — the same cardboard box hosting a camera perfect for some pretty nifty image recognition projects.
For more on the AIY Voice Kit, here's our release video hosted by the rather delightful Rob Zwetsloot.
AIY Projects 2
So what's new with version 2 of the AIY Projects Voice Kit? The kit now includes the recently released Raspberry Pi Zero WH, our Zero W with added pre-soldered header pins for instant digital making accessibility. Purchasers of the kits will also get a micro SD card with preloaded OS to help them get started without having to set the card up themselves.
In the newly upgraded AIY Projects Vision Kit v1.2, makers are also treated to an official Raspberry Pi Camera Module v2, the latest model of our add-on camera.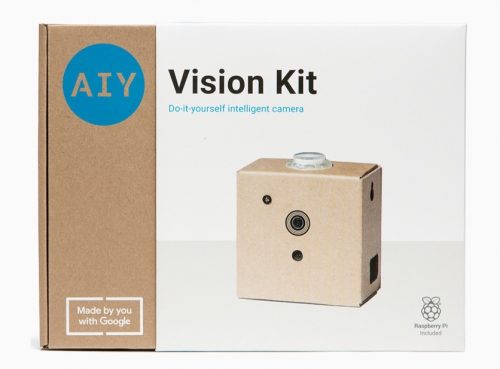 "Everything you need to get started is right there in the box," explains Billy Rutledge, Google's Director of AIY Projects. "We knew from our research that even though makers are interested in AI, many felt that adding it to their projects was too difficult or required expensive hardware."
Google is also hard at work producing AIY Projects companion apps for Android, iOS, and Chrome. The Android app is available now to coincide with the launch of the upgraded kits, with the other two due for release soon. The app supports wireless setup of the AIY Kit, though avid coders will still be able to hack theirs to better suit their projects.
Google has also updated the AIY Projects website with an AIY Models section highlighting a range of neural network projects for the kits.
Get your kit
The updated Voice and Vision Kits were announced last night, and in the US they are available now from Target. UK-based makers should be able to get their hands on them this summer — keep an eye on our social channels for updates and links.