A Raspbian desktop update with some new programming tools
Today we've released another update to the Raspbian desktop. In addition to the usual small tweaks and bug fixes, the big new changes are the inclusion of an offline version of Scratch 2.0, and of Thonny (a user-friendly IDE for Python which is excellent for beginners). We'll look at all the changes in this post, but let's start with the biggest…
Scratch 2.0 for Raspbian
Scratch is one of the most popular pieces of software on Raspberry Pi. This is largely due to the way it makes programming accessible – while it is simple to learn, it covers many of the concepts that are used in more advanced languages. Scratch really does provide a great introduction to programming for all ages.
Raspbian ships with the original version of Scratch, which is now at version 1.4. A few years ago, though, the Scratch team at the MIT Media Lab introduced the new and improved Scratch version 2.0, and ever since we've had numerous requests to offer it on the Pi.
There was, however, a problem with this. The original version of Scratch was written in a language called Squeak, which could run on the Pi in a Squeak interpreter. Scratch 2.0, however, was written in Flash, and was designed to run from a remote site in a web browser. While this made Scratch 2.0 a cross-platform application, which you could run without installing any Scratch software, it also meant that you had to be able to run Flash on your computer, and that you needed to be connected to the internet to program in Scratch.
We worked with Adobe to include the Pepper Flash plugin in Raspbian, which enables Flash sites to run in the Chromium browser. This addressed the first of these problems, so the Scratch 2.0 website has been available on Pi for a while. However, it still needed an internet connection to run, which wasn't ideal in many circumstances. We've been working with the Scratch team to get an offline version of Scratch 2.0 running on Pi.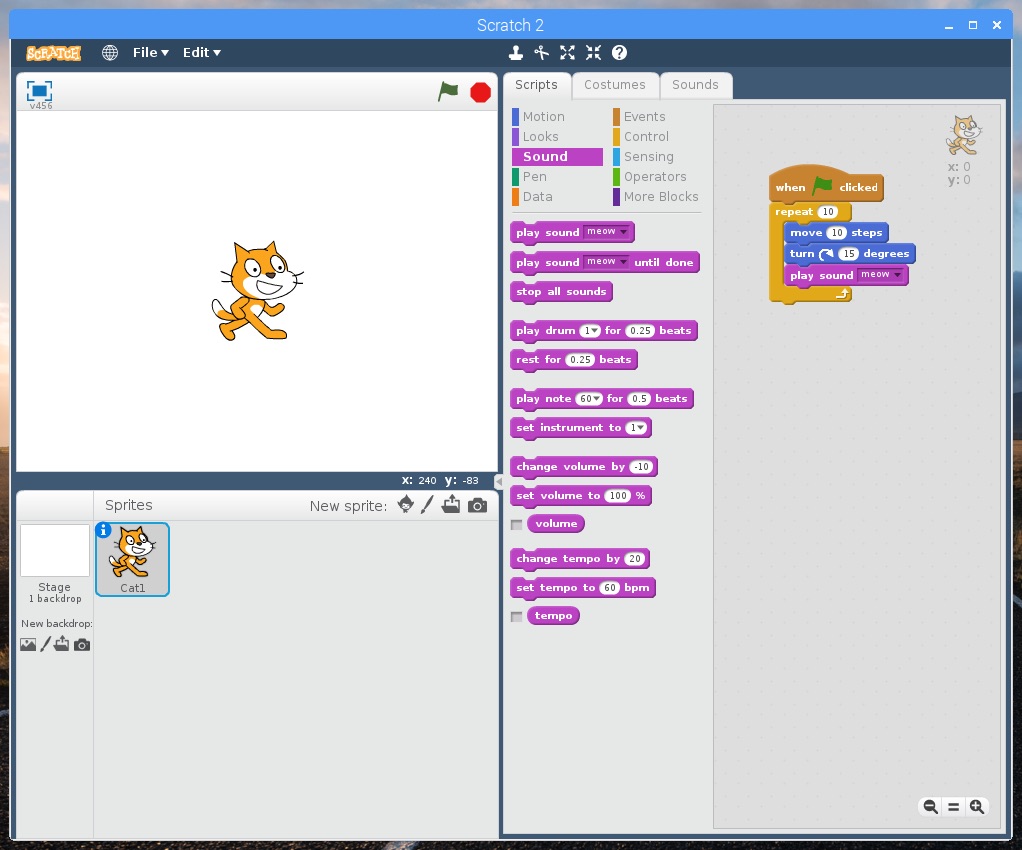 The Scratch team had created a website to enable developers to create hardware and software extensions for Scratch 2.0; this provided a version of the Flash code for the Scratch editor which could be modified to run locally rather than over the internet. We combined this with a program called Electron, which effectively wraps up a local web page into a standalone application. We ended up with the Scratch 2.0 application that you can find in the Programming section of the main menu.
Physical computing with Scratch 2.0
We didn't stop there though. We know that people want to use Scratch for physical computing, and it has always been a bit awkward to access GPIO pins from Scratch. In our Scratch 2.0 application, therefore, there is a custom extension which allows the user to control the Pi's GPIO pins without difficulty. Simply click on 'More Blocks', choose 'Add an Extension', and select 'Pi GPIO'. This loads two new blocks, one to read and one to write the state of a GPIO pin.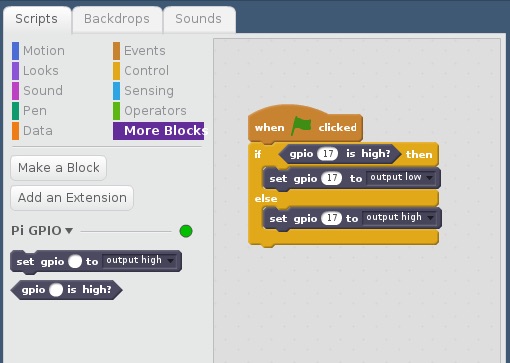 The Scratch team kindly allowed us to include all the sprites, backdrops, and sounds from the online version of Scratch 2.0. You can also use the Raspberry Pi Camera Module to create new sprites and backgrounds.
This first release works well, although it can be slow for some operations; this is largely unavoidable for Flash code running under Electron. Bear in mind that you will need to have the Pepper Flash plugin installed (which it is by default on standard Raspbian images). As Pepper Flash is only compatible with the processor in the Pi 2.0 and Pi 3, it is unfortunately not possible to run Scratch 2.0 on the Pi Zero or the original models of the Pi.
We hope that this makes Scratch 2.0 a more practical proposition for many users than it has been to date. Do let us know if you hit any problems, though!
Thonny: a more user-friendly IDE for Python
One of the paths from Scratch to 'real' programming is through Python. We know that the transition can be awkward, and this isn't helped by the tools available for learning Python. It's fair to say that IDLE, the Python IDE, isn't the most popular piece of software ever written…
Earlier this year, we reviewed every Python IDE that we could find that would run on a Raspberry Pi, in an attempt to see if there was something better out there than IDLE. We wanted to find something that was easier for beginners to use but still useful for experienced Python programmers. We found one program, Thonny, which stood head and shoulders above all the rest. It's a really user-friendly IDE, which still offers useful professional features like single-stepping of code and inspection of variables.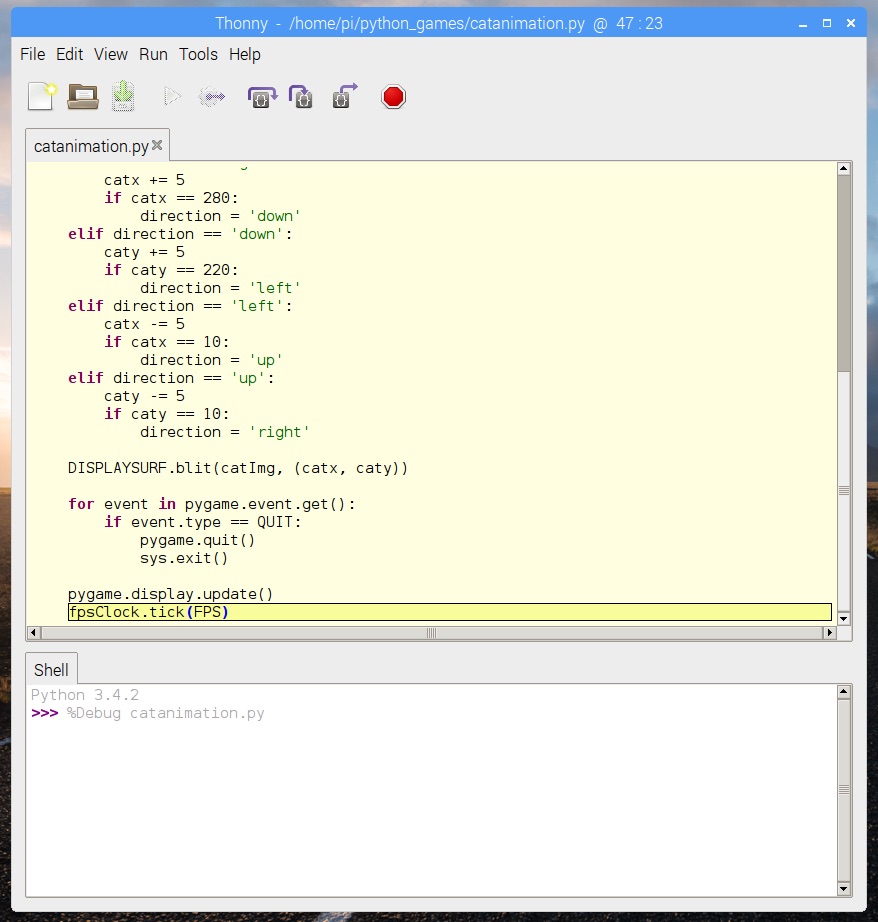 Thonny was created at the University of Tartu in Estonia; we've been working with Aivar Annamaa, the lead developer, on getting it into Raspbian. The original version of Thonny works well on the Pi, but because the GUI is written using Python's default GUI toolkit, Tkinter, the appearance clashes with the rest of the Raspbian desktop, most of which is written using the GTK toolkit. We made some changes to bring things like fonts and graphics into line with the appearance of our other apps, and Aivar very kindly took that work and converted it into a theme package that could be applied to Thonny.
Due to the limitations of working within Tkinter, the result isn't exactly like a native GTK application, but it's pretty close. It's probably good enough for anyone who isn't a picky UI obsessive like me, anyway! Have a look at the Thonny webpage to see some more details of all the cool features it offers. We hope that having a more usable environment will help to ease the transition from graphical languages like Scratch into 'proper' languages like Python.
New icons
Other than these two new packages, this release is mostly bug fixes and small version bumps. One thing you might notice, though, is that we've made some tweaks to our custom icon set. We wondered if the icons might look better with slightly thinner outlines. We tried it, and they did: we hope you prefer them too.
Downloading the new image
You can either download a new image from the Downloads page, or you can use apt to update:
sudo apt-get update
sudo apt-get dist-upgrade
To install Scratch 2.0:
sudo apt-get install scratch2
To install Thonny:
sudo apt-get install python3-thonny
One more thing…
Before Christmas, we released an experimental version of the desktop running on Debian for x86-based computers. We were slightly taken aback by how popular it turned out to be! This made us realise that this was something we were going to need to support going forward. We've decided we're going to try to make all new desktop releases for both Pi and x86 from now on.
The version of this we released last year was a live image that could run from a USB stick. Many people asked if we could make it permanently installable, so this version includes an installer. This uses the standard Debian install process, so it ought to work on most machines. I should stress, though, that we haven't been able to test on every type of hardware, so there may be issues on some computers. Please be sure to back up your hard drive before installing it. Unlike the live image, this will erase and reformat your hard drive, and you will lose anything that is already on it!
You can still boot the image as a live image if you don't want to install it, and it will create a persistence partition on the USB stick so you can save data. Just select 'Run with persistence' from the boot menu. To install, choose either 'Install' or 'Graphical install' from the same menu. The Debian installer will then walk you through the install process.
You can download the latest x86 image (which includes both Scratch 2.0 and Thonny) from here or here for a torrent file.
One final thing
This version of the desktop is based on Debian Jessie. Some of you will be aware that a new stable version of Debian (called Stretch) was released last week. Rest assured – we have been working on porting everything across to Stretch for some time now, and we will have a Stretch release ready some time over the summer.