Raspberry Pi Pico solar system display
Dmytro Panin has taken one small device and a giant leap towards creating a near perfect digital orrery. David Crookes takes a closer look in the latest issue of the MagPi magazine.
For centuries, astronomers have used orreries to simulate the motion of the planets around the sun. These mechanical models of the Solar System originated around 150 BCE, but they gained their name when English nobleman Charles Boyle, the Fourth Earl of Orrery, commissioned his own planetarium in 1713 based on a design by clock makers George Graham and Thomas Tompion.
Dmytro Panin would love to have one. "They're a bit on the bulky side, but I may attempt to build an orrery one day," he says. In the meantime, he has produced a digital version that is equally captivating and useful, powered by a Raspberry Pi Pico microcontroller. "Astronomy has always fascinated me, and I wanted something that I could look at and see the planets in the Solar System progress over time," he continues. "So I built a visual reminder."
A star build
His project is out of this world. As well as Pico, it uses two other main components: a Waveshare Precision RTC expansion module with an on-board DS3231 chip and a Pimoroni Pico Display Pack. This allows the device to calculate the planets' positions based on the current time and date. It then presents the planets revolving around the sun, showing their relative circular orbits.
"The cool part is that no external data is needed," Dmytro says. "The positions of the planets are calculated on board and the only thing that the system knows is the current time, which comes from the RTC module." It makes the build a relatively straightforward one to replicate and Dmytro has been more than happy to make it open-source. He even shares his design for a 3D-printed case.
But why choose the Raspberry Pi Pico for this project? "Microcontrollers are amazing: you have a tiny object which can execute your commands and do virtually everything with extremely low power consumption. When I found out about the new RP2040 microcontroller and checked the specs, I knew it could became part of my next build," he says. "I was particularly interested in using MicroPython instead of C to program a microcontroller."
Space to think
Dmytro has also added some neat flourishes to his creation. To start with, he wanted to figure a role for Pluto – the celestial body demoted to the status of dwarf planet by the International Astronomical Union in 2006. "I decided to represent the seconds by having Pluto bounce, starting from the full amplitude to just rolling at the bottom of the screen when a minute is about to end," he says.
He also made use of the Pico Display's tiny buttons so that past and future planetary positions can be viewed on the screen. Most of the time, however, it just sits on a shelf in his line of sight, allowing him to keep track of the current positions. "It means I can always see it," he says. "But the downside is that I can end up mindlessly staring at Pluto jumping around without realising how much time has passed."
Get The MagPi #110 NOW!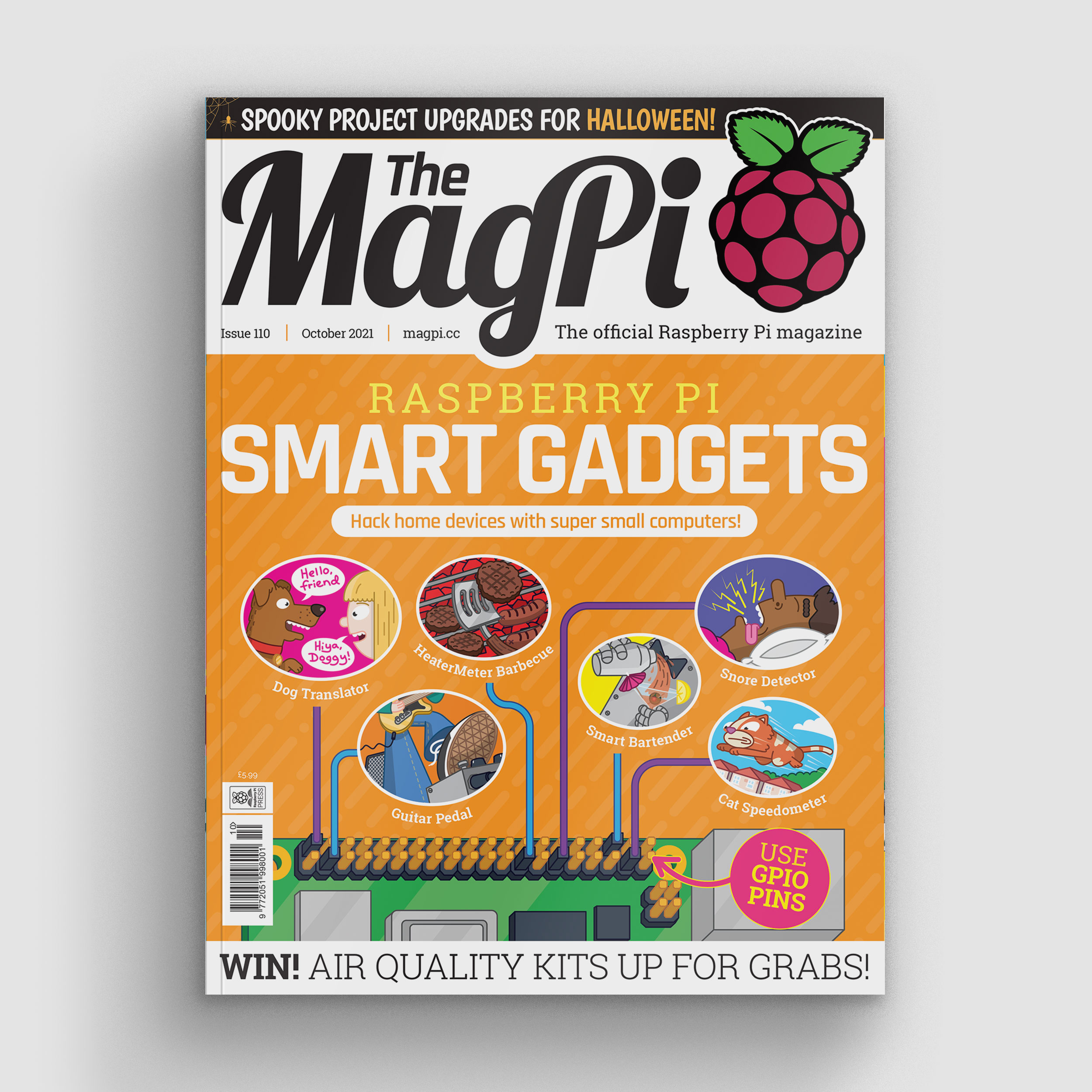 You can grab the brand-new issue right now from the Raspberry Pi Press store, or via our app on Android or iOS. You can also pick it up from supermarkets and newsagents. There's also a free PDF you can download.