Project Floofball and more: Pi pet stuff
It's a public holiday here today (yes, again). So, while we indulge in the traditional pastime of barbecuing stuff (ourselves, mainly), here's a little trove of Pi projects that cater for our various furry friends.
Project Floofball
Nicole Horward created Project Floofball for her hamster, Harold. It's an IoT hamster wheel that uses a Raspberry Pi and a magnetic door sensor to log how far Harold runs.
You can follow Harold's runs in real time on his ThingSpeak channel, and you'll find photos of the build on imgur. Nicole's Python code, as well as her template for the laser-cut enclosure that houses the wiring and LCD display, are available on the hamster wheel's GitHub repo.
A live-streaming pet feeder
JaganK3 used to work long hours that meant he couldn't be there to feed his dog on time. He found that he couldn't buy an automated feeder in India without paying a lot to import one, so he made one himself. It uses a Raspberry Pi to control a motor that turns a dispensing valve in a hopper full of dry food, giving his dog a portion of food at set times.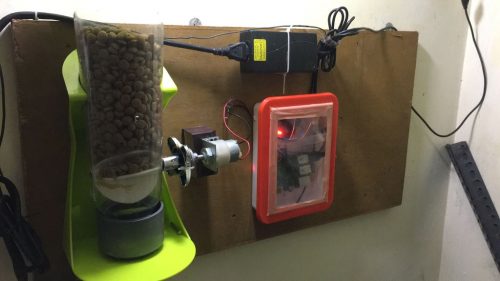 He also added a web cam for live video streaming, because he could. Find out more in JaganK3's Instructable for his pet feeder.
Shark laser cat toy
Sam Storino, meanwhile, is using a Raspberry Pi to control a laser-pointer cat toy with a goshdarned SHARK (which is kind of what I'd expect from the guy who made the steampunk-looking cat feeder a few weeks ago). The idea is to keep his cats interested and active within the confines of a compact city apartment.
If I were a cat, I would definitely be entirely happy with this. Find out more on Sam's website.
And there's more
Michel Parreno has written a series of articles to help you monitor and feed your pet with Raspberry Pi.
All of these makers are generous in acknowledging the tutorials and build logs that helped them with their projects. It's lovely to see the Raspberry Pi and maker community working like this, and I bet their projects will inspire others too.
Now, if you'll excuse me. I'm late for a barbecue.