(Raspberry) Pi Commander | The MagPi 95
Adrien Castel's idea of converting an old electronic toy into a retro games machine was no flight of fancy, as David Crookes discovers
The 1980s was a golden era for imaginative electronic toys. Children would pester their parents for a Tomytronic 3D or a Nintendo Game & Watch. And they would enviously eye anyone who had a Tomy Turnin' Turbo Dashboard with its promise of replicating the thrill of driving (albeit without the traffic jams).
Two years ago, maker Matt Brailsford turned that amazing toy into a fully working Out Run arcade machine and Adrien Castel was smitten. "I loved the fact that he'd upcycled an old toy and created something that could be enjoyed as a grown-up," he says. "But I wanted to push the simulation a bit further and I thought a flying sim could do the trick."
"I didn't want to modify the look of the toy"
Ideas began flying around Adrien's mind. "I knew what I wanted to achieve so I made an overall plan in my head," he recalls. First he found the perfect toy: a battery-powered Sky Fighter F-16 tabletop game made by Dival. He then decided to base his build around a Raspberry Pi 3A+. "It's the perfect hardware for projects like this because of its flexibility," Adrien says.
Taking off
The toy needed some work. Its original bright red joystick was missing and Adrien knew he'd have to replace the original screen with a TFT LCD. To do this, he 3D-printed a frame to fit the TFT display and he created a smaller base for the replacement joystick. Adrien also changed the microswitches for greater sensitivity but he didn't go overboard with the changes.
"I knew I would have to adapt some parts for the joystick and for the screen, but I didn't want to modify the look of the toy," Adrien explains. "To be honest, modifying the toy would have involved some sanding and painting and I was worried that it would ruin the overall effect of the project if it was badly executed."
As such, a challenge was set. "I had to keep most of the original parts such as throttle levers and LEDs and adapt them to the new build," he says. "This meant getting them to work together with the system and it also meant using the original PCB, getting rid of the components and re-routing the electronics to plug on the GPIOs."
There were some enhancements. Adrien soldered a PAM8403 3W class-D audio amplifier to Raspberry Pi and this allowed a basic speaker to replace the original for better sound. But there were some compromises too.
"At first I thought the screen could be bigger than the one I used, but the round shape of the cockpit didn't give much space to fit a screen larger than four inches." He also believes the project could be improved with a better joystick: "The one I've used is a simple two-button arcade stick with a jet fighter look."
Flying high
By using the retro gaming OS Recalbox (based on EmulationStation and RetroArch), however, he's been able to perfect the overall feel. "Recalbox allowed me to create a custom front end that matches the look of a jet fighter," he explains. It also means the Pi Commander plays shoot-'em-up games alongside open-source simulators like FlightGear (flightgear.org). "It's a lot of fun."
Read The MagPi for free!
Find more fantastic projects, tutorials, and reviews in The MagPi #93, out now! You can get The MagPi #95 online at our store, or in print from all good newsagents and supermarkets. You can also access The MagPi magazine via our Android and iOS apps.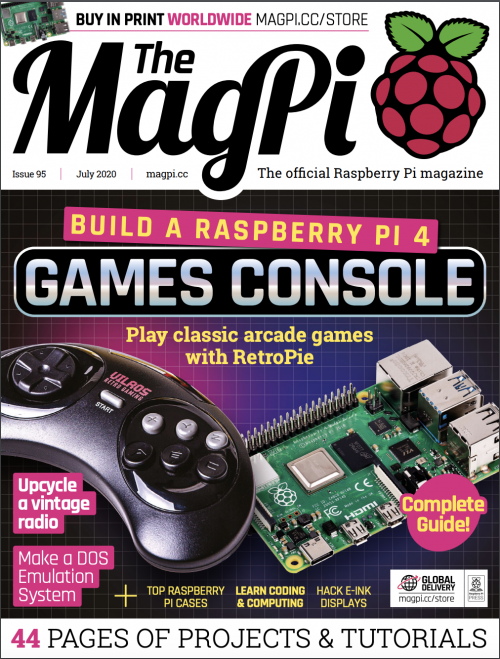 Don't forget our super subscription offers, which include a free gift of a Raspberry Pi Zero W when you subscribe for twelve months.
And, as with all our Raspberry Pi Press publications, you can download the free PDF from our website.