Meet your new robotic best friend: the MiRo-E dog
When you're learning a new language, it's easier the younger you are. But how can we show very young students that learning to speak code is fun? Consequential Robotics has an answer…

The MiRo-E is an 'emotionally engaging' robot platform that was created on a custom PCB  and has since moved onto Raspberry Pi. The creators made the change because they saw that schools were more familiar with Raspberry Pi and realised the potential in being able to upgrade the robotic learning tools with new Raspberry Pi boards.
The MiRo-E was born from a collaboration between Sheffield Robotics, London-based SCA design studio, and Bristol Robotics Lab. The cute robo-doggo has been shipping with Raspberry Pi 3B+ (they work well with the Raspberry Pi 4 too) for over a year now.
While the robot started as a developers' tool (MiRo-B), the creators completely re-engineered MiRo's mechatronics and software to turn it into an educational tool purely for the classroom environment.
MiRo-E can see, hear, and interact with its environment, providing endless programming possibilities. It responds to human interaction, making it a fun, engaging way for students to learn coding skills. If you stroke it, it purrs, lights up, move its ears, and wags its tail. Making a sound or clapping makes MiRo move towards you, or away if it is alarmed. And it especially likes movement, following you around like a real, loyal canine friend. These functionalities are just the basic starting point, however: students can make MiRo do much more once they start tinkering with their programmable pet.
These opportunities are provided on MiRoCode, a user-friendly web-based coding interface, where students can run through lesson plans and experiment with new ideas. They can test code on a virtual MiRo-E to create new skills that can be applied to a real-life MiRo-E.
What's inside?
Here are the full technical specs. But basically, MiRo-E comprises a Raspberry Pi 3B+ as its core, light sensors, cliff sensors, an HD camera, and a variety of connectivity options.
How does it interact?
MiRo reacts to sound, touch, and movement in a variety of ways. 28 capacitive touch sensors tell it when it is being petted or stroked. Six independent RGB LEDs allow it to show emotion, along with DOF to move its eyes, tail, and ears. Its ears also house four 16-bit microphones and a loudspeaker. And two differential drive wheels with opto-sensors help MiRo move around.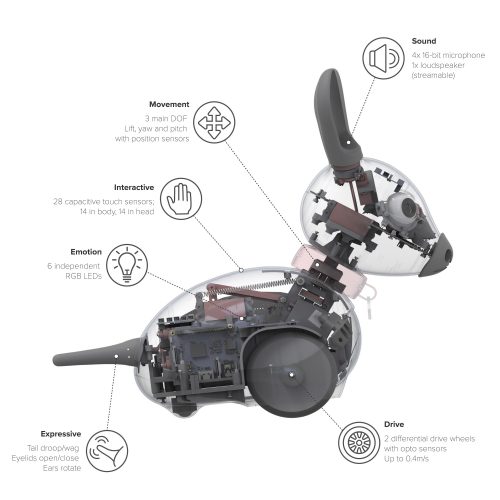 What else can it do?
The 'E' bit of MiRo-E means it's emotionally engaging, and the intelligent pet's potential in healthcare have already been explored. Interaction with animals has been proved to be positive for patients of all ages, but sometimes it's not possible for 'real' animals to comfort people. MiRo-E can fill the gap for young children who would benefit from animal comfort, but where healthcare or animal welfare risks are barriers.
The same researchers who created this emotionally engaging robo-dog for young people are also working with project partners in Japan to develop 'telepresence robots' for older patients to interact with their families over video calls.