HeaterMeter, the open-source barbecue controller
We spent the weekend knee-deep in marinade. (Top tip: if you're brining something big, like a particularly plump chicken, buy a cheap kitchen bin. The depth makes it much easier than juggling near-overflowing buckets. And when you're finished, you have a spare bin.)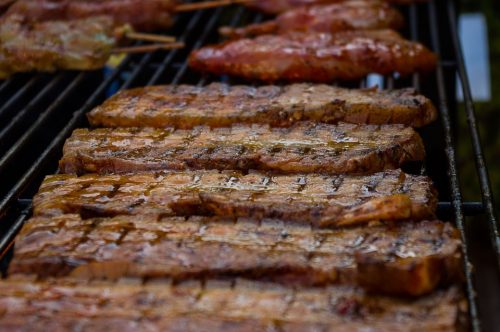 If you're a serious barbecue jockey, you'll want to know about Bryan Mayland's HeaterMeter, a rather nifty open-source controller for your barbecue, built around a Raspberry Pi. Controlling the heat of your setup is key in low, slow cooking and smoking; you can get glorious results very inexpensively (an off-the-shelf equivalent will set you back a few hundred pounds) and have the satisfaction of knowing you built your equipment yourself. Bryan says:
Temperature data read from a standard thermistor (ThermoWorks, Maverick) or thermocouple probe is used to adjust the speed of a blower fan motor mounted to the BBQ grill to maintain a specific set temperature point (setpoint). A servo-operated damper may optionally be employed. Additional thermistor probes are used to monitor food and/or ambient temperatures, and these are displayed on a 16×2 LCD attached to the unit. Buttons or serial commands can be used to adjust configuration of the device, including adjustment of the setpoint or manually regulating fan speeds.
The Raspberry Pi adds a web interface, with graphing, archives, and SMS/email support for alarm notification, which means you can go and splash around in the kids' paddling pool with a beer rather than spending the day standing over the grill with a temperature probe.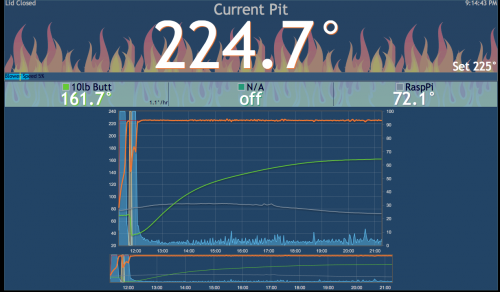 You can buy a HeaterMeter online, in kit form or pre-assembled. There's an incredibly comprehensive wiki available to get you going with the HeaterMeter, and a very straightforward Instructable if you're just looking for a quick setup. If you're the type who prefers to learn by watching, Bryan also has a few videos on YouTube where he puts the kit together. To start with, see how to assemble the LCD/button board here and the base board here.
We're hungry.