Community Profile: Estefannie Explains It All
This column is from The MagPi issue 59. You can download a PDF of the full issue for free, or subscribe to receive the print edition through your letterbox or the digital edition on your tablet. All proceeds from the print and digital editions help the Raspberry Pi Foundation achieve our charitable goals.
"Hey, world!" Estefannie exclaims, a wide grin across her face as the camera begins to roll for another YouTube tutorial video. With a growing number of followers and wonderful support from her fans, Estefannie is building a solid reputation as an online maker, creating unique, fun content accessible to all.
It's as if she was born into performing and making for an audience, but this fun, enjoyable journey to social media stardom came not from a desire to be in front of the camera, but rather as a unique approach to her own learning. While studying, Estefannie decided the best way to confirm her knowledge of a subject was to create an educational video explaining it. If she could teach a topic successfully, she knew she'd retained the information. And so her YouTube channel, Estefannie Explains It All, came into being.
But YouTube isn't her only outlet. With nearly 50000 followers, Estefannie's Instagram game is strong, adding to an increasing number of female coders taking to the platform. Across her Instagram grid, you'll find insights into her daily routine, from programming on location for work to behind-the-scenes troubleshooting as she begins to create another tutorial video. It's hard work, with content creation for both Instagram and YouTube forever on her mind as she continues to work and progress successfully as a software engineer.
Estefannie was born and raised in Mexico, with ambitions to become a graphic designer and animator. However, a documentary on coding at Pixar, and the beauty of Merida's hair in Brave, opened her mind to the opportunities of software engineering in animation. She altered her career path, moved to the United States, and switched to a Computer Science course.
While studying, Estefannie started a Computer Science Girls Club at the University of Houston, Texas, and she found herself eager to put more time and effort into the movement to increase the percentage of women in the industry. The club was a success, and still is to this day. While Estefannie has handed over the reins, she's still very involved in the cause.
Through her YouTube videos, Estefannie continues the theme of inclusion, with every project offering a warm sense of approachability for all, regardless of age, gender, or skill. From exploring Scratch and Makey Makey with her young niece and nephew to creating her own Disney 'Made with Magic' backpack for a trip to Disney World, Florida, Estefannie's videos are essentially a documentary of her own learning process, produced so viewers can learn with her — and learn from her mistakes — to create their own tech wonders.
Using the Raspberry Pi, she's been able to broaden her skills and, in turn, her projects, creating a home-automated gingerbread house at Christmas, building a GPS-controlled GoPro for her trip to London, and making everyone's life better with an Internet Button–controlled French press.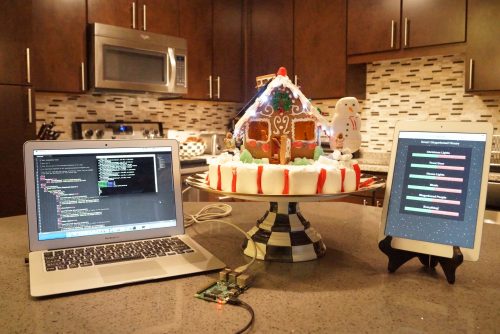 Estefannie's automated gingerbread house project was a labour of love, with electronics, wires, and candy strewn across both her living room and kitchen for weeks before completion. While she already was a skilled programmer, the world of physical digital making was still fairly new for Estefannie. Having ditched her hot glue gun in favour of a soldering iron in a previous video, she continued to experiment and try out new, interesting techniques that are now second nature to many members of the maker community. With the gingerbread house, Estefannie was able to research and apply techniques such as light controls, servos, and app making, although the latter was already firmly within her skill set. The result? A fun video of ups and downs that resulted in a wonderful, festive treat. She even gave her holiday home its own solar panel!
And that's just the beginning of her adventures with Pi…but we won't spoil her future plans by telling you what's coming next. Sorry! However, since this article was written last year, Estefannie has released a few more Pi-based project videos, plus some awesome interviews and live-streams with other members of the maker community such as Simone Giertz. She even made us an awesome video for our Raspberry Pi YouTube channel! So be sure to check out her latest releases.
While many wonderful maker videos show off a project without much explanation, or expect a certain level of skill from viewers hoping to recreate the project, Estefannie's videos exist almost within their own category. We can't wait to see where Estefannie Explains It All goes next!