Raspberry Pi Zero W
The Raspberry Pi Zero W extends the Pi Zero family and comes with added wireless LAN and Bluetooth connectivity.
Buy now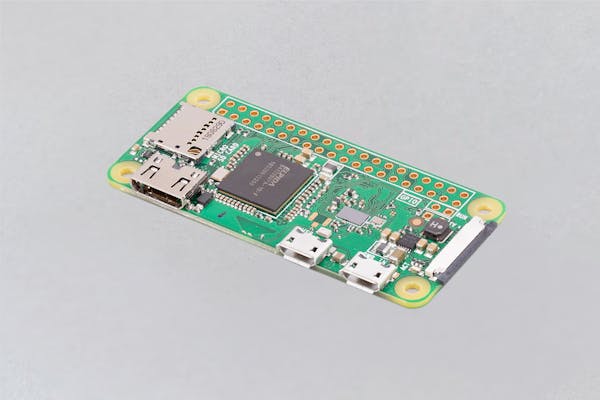 Getting started
To get started
(not included) you'll need:
MicroSD card with Raspberry Pi OS installed.
Micro USB power supply.
A special Raspberry Pi Zero camera cable, if you want to use a Raspberry Pi camera (the standard cable supplied with Raspberry Pi cameras is not compatible with the smaller Raspberry Pi Zero camera connector). Suitable cables are available at low cost from many Raspberry Pi Approved Resellers, and are supplied with the Raspberry Pi Zero Case.
For a step-by-step guide to getting your Pi up and running, check out our online Getting started guide.
There are loads of projects to get started on with your Raspberry Pi Zero in our learning resources area. A couple of great projects are:
Specification
802.11 b/g/n wireless LAN
Bluetooth 4.1
Bluetooth Low Energy (BLE)
1GHz, single-core CPU
512MB RAM
Mini HDMI® port and micro USB On-The-Go (OTG) port
Micro USB power
HAT-compatible 40-pin header
Composite video and reset headers
CSI camera connector
Compliance
Raspberry Pi Zero W has undergone extensive compliance testing, and meets the following European standards:
Electromagnetic Compatibility Directive (EMC) 2014/30/EU
Restriction of Hazardous Substances (RoHS) Directive 2011/65/EU
View and download global compliance certificates for Raspberry Pi products.
The Adopted Trademarks HDMI®, HDMI High-Definition Multimedia Interface, and the HDMI Logo are trademarks or registered trademarks of HDMI Licensing Administrator, Inc. in the United States and other countries.
Obsolescence Statement
Raspberry Pi Zero W will remain in production until at least January 2026