Raspberry Pi 400 unit
Raspberry Pi 400 is your complete personal computer, built into a compact keyboard. Featuring a quad-core 64-bit processor, 4GB of RAM, wireless networking, dual-display output, and 4K video playback, as well as a 40-pin GPIO header, it's the most powerful and easy-to-use Raspberry Pi computer yet. Raspberry Pi 400 is also available as part of a complete kit including a mouse, power supply, preloaded SD card, and more.
Buy now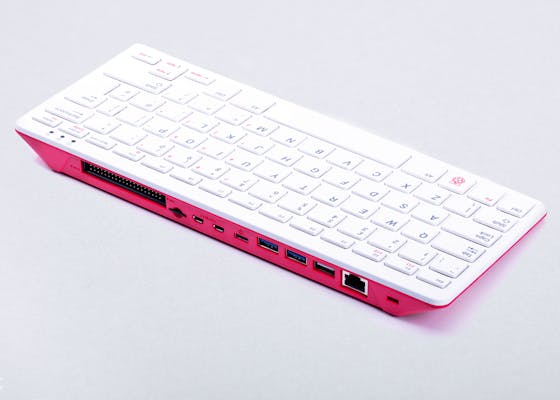 Specification
Broadcom BCM2711 quad-core Cortex-A72 (ARM v8) 64-bit SoC @ 1.8GHz
4GB LPDDR4-3200
Dual-band (2.4GHz and 5.0GHz) IEEE 802.11b/g/n/ac wireless LAN
Bluetooth 5.0, BLE
Gigabit Ethernet
2 × USB 3.0 and 1 × USB 2.0 ports
Horizontal 40-pin GPIO header
2 × micro HDMI® ports (supports up to 4Kp60)
H.265 (4Kp60 decode); H.264 (1080p60 decode, 1080p30 encode); OpenGL ES 3.1, Vulkan 1.0
MicroSD card slot for operating system and data storage
78- or 79-key compact keyboard (depending on regional variant)
5V DC via USB connector
Operating temperature: 0°C to +50°C ambient
Maximum dimensions 286 mm × 122 mm × 23 mm
For further details, see the Raspberry Pi 400 product brief.
Compliance
Raspberry Pi 400 has undergone extensive compliance testing and meets a number of regional and international standards.
View and download relevant certificates and conformity documents.
The Adopted Trademarks HDMI®, HDMI High-Definition Multimedia Interface, and the HDMI Logo are trademarks or registered trademarks of HDMI Licensing Administrator, Inc. in the United States and other countries.
If you require any further information regarding compliance, please contact us at [email protected]
Obsolescence Statement
Raspberry Pi 400 unit will remain in production until at least January 2026
Buy Raspberry Pi 400 unit