IQaudio DigiAMP+
IQaudio DigiAMP+ uses the high-performance DAC from Texas Instruments' TAS5756M stereo amplifier to deliver a direct connection to passive stereo speakers at up to 2 × 35 Watts/channel with variable output. Ideal for a Raspberry Pi-based hi-fi system.
Buy now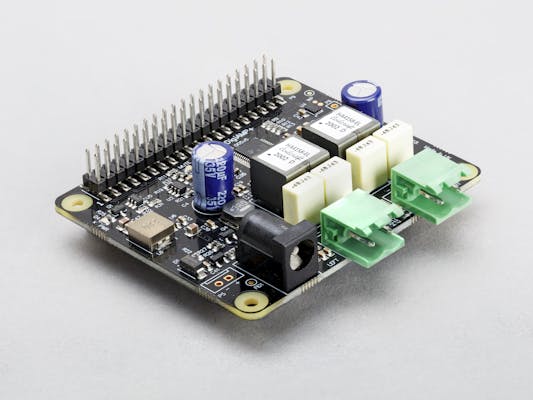 Getting started
IQaudio DigiAMP+ connects to the 40-pin GPIO header of Raspberry Pi 1 Model B+, Raspberry Pi 2, Raspberry Pi 3, or Raspberry Pi 4 with no need for soldering. DigiAMP+ must be powered from an external supply, and requires a 12-24V DC power source to its 5.5 mm x 2.5 mm barrel connector. The XP Power VEC65US19 power supply is recommended for use with DigiAMP+.
DigiAMP+ has been designed to provide power to the Raspberry Pi-plus-DigiAMP+ combination in parallel, delivering 5.1V @ 2.5A to your Raspberry Pi.
DO NOT APPLY POWER TO RASPBERRY Pi'S OWN POWER INPUT WHEN USING DigiAMP+.
The amplifier is by default muted at power on (mute LED lit). The mute state/LED is under software control (Raspberry Pi GPIO22).
P5: Alternative power input for hard-wired installations. POLARITY MUST BE OBSERVED!
P8: TAS5756m Internal GPIO1/2/3
Compliance
IQaudio DigiAMP+ has undergone extensive compliance testing and meets the standards required in many countries. You can find all compliance information and regional certificates at pip.raspberrypi.com.
Obsolescence Statement
IQaudio DigiAMP+ will remain in production until at least January 2026