Raspberry Pi 3 Model A+
1.4GHz 64-bit quad-core processor, dual-band wireless LAN, Bluetooth 4.2/BLE in the same mechanical format as the Raspberry Pi 1 Model A+
Buy now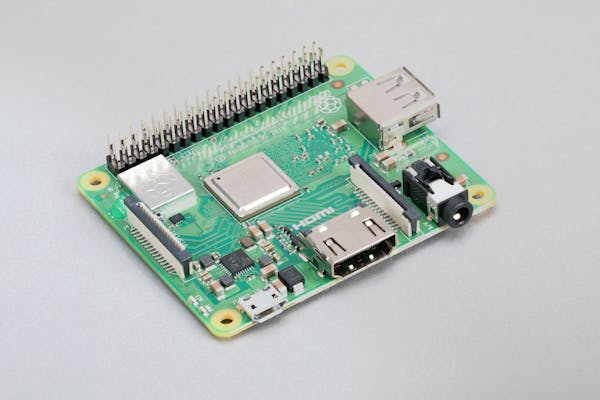 Specifications
The Raspberry Pi 3 Model A+ extends the Raspberry Pi 3 range into the A+ board format.
Broadcom BCM2837B0, Cortex-A53 (ARMv8) 64-bit SoC @ 1.4GHz
512MB LPDDR2 SDRAM
2.4GHz and 5GHz IEEE 802.11.b/g/n/ac wireless LAN, Bluetooth 4.2/BLE
Extended 40-pin GPIO header
Full-size HDMI
Single USB 2.0 ports
CSI camera port for connecting a Raspberry Pi Camera
DSI display port for connecting a Raspberry Pi Touch Display
4-pole stereo output and composite video port
Micro SD port for loading your operating system and storing data
5V/2.5A DC power input
Notices
All product change notices (PCNs) for Raspberry Pi 3 Model A+ can be found here.
Compliance
The Raspberry Pi 3 Model A+ has undergone extensive compliance testing, and meets the following European standards:
Electromagnetic Compatibility Directive (EMC) 2014/30/EU
Restriction of Hazardous Substances (RoHS) Directive 2011/65/EU
View and download global compliance certificates for Raspberry Pi products.
The dual-band wireless LAN comes with modular compliance certification. This allows the board to be designed into end product with significantly reduced wireless LAN compliance testing, improving both cost and time to market.
The Adopted Trademarks HDMI, HDMI High-Definition Multimedia Interface, and the HDMI Logo are trademarks or registered trademarks of HDMI Licensing Administrator, Inc. in the United States and other countries.
Obsolescence Statement
Raspberry Pi 3 Model A+ will remain in production until at least January 2028
Buy Raspberry Pi 3 Model A+